A couple of days ago, my fiancee and his coworkers decided to go to this awesome (their words not mine) burger place not far from their office building. And because of Marvin's (my fiancee) insistence, I went along with them.
The name of the place is The Food Lab. Initially, I thought this was a high-end restaurant located in a prime location, serving premium-quality food for a hefty price. The last thing I was expecting was for it to be hidden in a street occupied with thrift stores, computer shops, a wet market, and street vendors. The place is almost literally a hole-in-the-wall kind of joint -- with the place itself being about 5 to 7 feet wide and maybe 20 to 25 feet long, no door only a tarp that moves along with the wind (does almost nothing to protect customers from the sun), and tables and chairs that can only fit 4 petite people.
Now it may sound like I hated the place ... I didn't! Inspite of all those negative-sounding descriptions, the place really is not that bad. It has a cozy feel to it that would make people anticipate the promise of a good and happy eating.
Before I go to my review of the food I've tasted, keep in mind that The Food Lab's targeted democratic are students and employees who are looking to eat "fancy" food but are on a budget. So basically, prices are low (that when I heard our total bill I was like, "That's it?").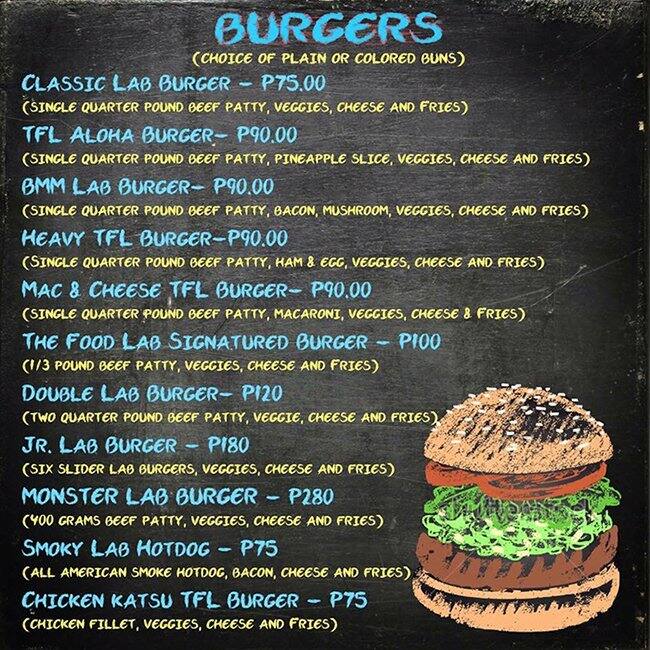 Image from Zomato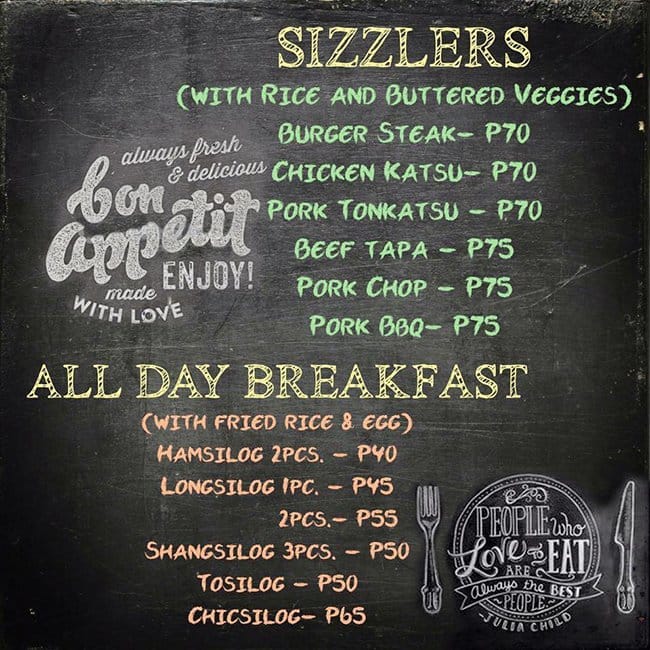 Image from Zomato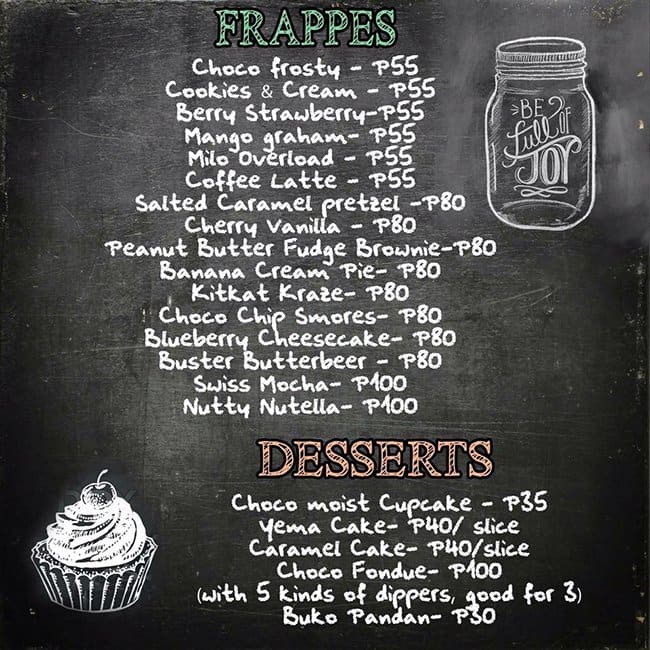 Image from Zomato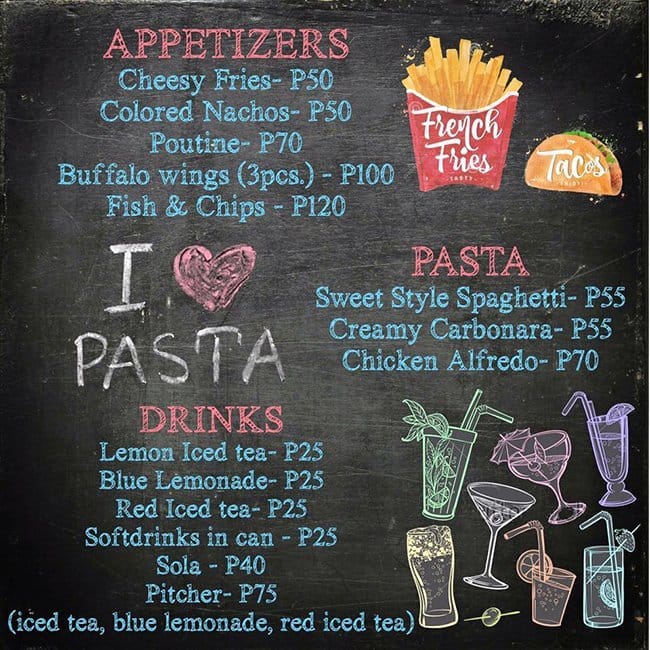 Image from Zomato
When I saw the menu -- and the prices -- I started second guessing my decision to eat there, because there is NO WAY you can get an "amazing" burger for only P75 ($1.50 USD)! But because I'm a foodie, and I don't like judging things or people based on assumptions, I decided to go big or go home.
I asked my fiancee to get me the Monster Lab Burger, a blue lemonade, and their colored nachos. I've never been a fan of artificially colored food, other than M&Ms, so this was an entirely new thing for me. Now, Marvin decided that he would go for the Double Lab Burger and a Mango Graham frappe. When he placed the order and got back to the table, he told me that my burger choice was not available and that the colored nachos are only plain ol' nachos. Hmm, interesting. So I told him I'll get the The Food Lab Signature Burger instead. A couple minutes later the server went to our table and told us that their signature burger is NOT available. At this point, I knew we were screwed. I mean, what kind of food joint don't serve the dish that they claim to be the best one they have? Anyway, we opted for the BMM Lab Burger instead.
Fast forward to 20 minutes later and this is what we had...
The orange burger is the BMM Lab Burger (Marvin's) and the pink one is the Double Lab Burger. As you can see, presentation was pretty good and appealing. It certainly called for Instagram-worthy #FoodPorn shots.
But how was it exactly?
You would know at first glance that the burgers are small and don't really deliver on the patty size/weight that is stated on the menu. But I don't really care much about its size as I do its taste. Let's break it down:

Bread: The bread is obviously home-made so they can infuse the different colors and sesame seeds. It was soft and moist and it has a certain sweetness to it that is just right.
Patty: It was dry. I spent about 10 minutes mulling over why the burger patties were dry, because I couldn't understand why a burger with that much fat in it be dry and burnt on the outside but pink inside. I found it quite baffling. It was rather filling though. Not a lot of extender, which is almost always a good thing, and the flavor was pretty good. So it was dry but tasty.
Sauce: I don't have anything good to say about this, I apologize. If I'm not mistaken, it was a combination of mayonnaise and banana ketchup, so it was sweet and spicy, but in a way that does not appeal to me at all. There was also a TON of sauce in the burger that it soaked my burger buns, making it chewy and uninteresting. The yellow sauce though, which is not mustard, is pretty okay. I dipped my fries in it but can't find much of it in the burger itself.

Fries: IT.WAS.GOOD. I think that's why I had some expectation of what the burger would be like, because I ate the fries first and it was good. It was hot, crispy, tasty, and not too oily. Honestly, it was the best part of the meal.
Unfortunately, I don't have a picture of their nachos, but either way, it wasn't all that good. It was just a bunch of nacho chips with the mayo-ketchup dressing and not much else. It wasn't all that enjoyable for anyone, so we didn't really finish it, sad to say.
I also had a sip of the Mango Graham frappe, and boy was I happy I didn't drink that along with my meal. It had too much going on and it just tasted like sugar, corn syrup, and more sugar.
Now, I know I seem kind of harsh in my review of the place, and I do seem like a food snob right now. But this place isn't so bad. It's perfect for people who are hungry and into gimmick but aren't really that particular with food taste and quality.
Would I recommend it? Sure. To whom? To all those who fit into The Food Lab's target democractic -- hungry and on a budget.
Address: 15 Luzon Street, Central Signal Village, FTI, Taguig City (from Zomato)

Phone #: 02 7106419 (from Zomato)

Food waiting time is 20-30 minutes.

Place can only seat about 30 people.

The guy waiter was nice and accommodating.

You can't choose the color of your burger buns. (At least I don't think you can)

Wear comfortable clothes because it gets kind of stuffy in there.

Don't get too excited with the array of food and low prices. Choose wisely.

Bring a camera or make sure your phone has enough battery for the buttload of pictures you'll be taking of the food and with your friends.
Note: This is my personal opinion of the place and of the food. It does not necessarily mean that their food is not good or that you shouldn't give the joint a chance.